It is now available, on the on-line E-store of the new italian Editor CompoMat, the 1st Edition of the book "ELEMENTI DI ELETTRONICA DIGITALE".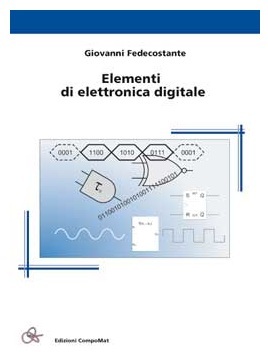 Elementi di Elettronica Digitale
Autore: Giovanni Fedecostante
ISBN - 978-88-95706-20-7 - Ist Edition 2010

The book, at the moment only in italian language, is intended for the academic use as an aid for students of those universities that have, in their curricula for degree, courses on digital electronics. For this reason, the author preferred to deal the various subjects, and to demonstrate various statements, through an extensive use of already solved exercises and practical examples - which an entire Appendix is dedicated to - though use logical/mathematical formalism or lexicon.
In the different chapters, some of the most common methods and algorithms for the synthesis and verification of both combinatorial and sequential digital circuits are described; further, in order to supply a general view as complete as possible on the digital electronic design, strictly related arguments have been faced, as

- VHDL
- classification of integrated digital components' families
- Design for Testability (D.F.T.)
- JTAG
At present the book is available for buying on the CompoMat on-line E-store at the following link Elementi di Elettronica Digitale.
The errata corrige to the previous 1st Edition distributed by CreateSpace.com, updated to 11/05/2011, is available downloading the file ---> EED_1a_Edizione_ErrataCorrige_110516.pdf